So, to recap, I quit my job on September 15th. A week ago. Ten thousand twenty minutes ago. Six hundred one thousand two hundred seconds ago. It has been the best week ever. The clarity I've had this week has been amazing. Who knew I could finish studying for the GCE Level 2 exam in one morning cus there was no other obligation (other than loading the dishwasher) keeping me from studying. Heck, I completely rebuilt my Technology PD website that afternoon! Maybe next week I'll redo all the video tutorials (I swear there are easily 70 of them) All that on Monday!  Some other interesting things happened this week too.
Wandered out on Facebook and commented on this "tapping sound" at my  door.  Commentary was general, a personal message from one person inquired what He said to me.
"He said hang on a minute, not finished  putting together your "toolkit" for what I need you to do."
So, I'll wait.
In the meantime, I reached out to my PLN to get some advice on becoming a full time, insanely happy Instructional Designer. That went better than expected. As one of them posted on Twitter:
Can you imagine how much harder our jobs would be without our PLNs?? I try to explain this to folks who don't get it. So thankful! #INeLearn https://t.co/CCrRG6Udix

— Michele Eaton (@micheeaton) September 21, 2017
Based on the discussions from these nice people, I'm now working on my ID skill set by teaching myself Adobe Captivate,  I just might go freelance.  I'm working on a story board already.  One lesson per month to start perhaps?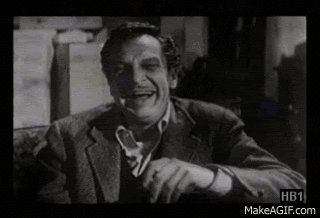 Hostile takeover of the K12 Blended Learning World in northwest Indiana?  (is that Vincent Price I hear laughing?)
That was Tuesday.
Wednesday morning, I got a text message from a former coworker.
"I heard you quit."
"Where'd you hear that?"
"Oh, when great teachers quit, the word gets around."
"Oh. Yeah, I quit."
"I need you to come over here. We need you."
"Ummmmm"
I was going to leave it there for now except, I ended up sitting across from his coworker in a completely non educational related meeting Thursday evening. He told me the things I needed to know about the school (good) and the current state of the district. (not good) I didn't even ask.  He. just. told. me. He basically interviewed me on the spot.  More on that later.
In the meantime, (I have a lot of that now). my "partners in crime" and I will be sitting down this weekend to plot our plan for that hostile takeover.  Skill sets on point" check. Focused? check. Anxious.  In a good way.
Let's do this.